Add:台北市大安區基隆路2段164號8樓-2
8F-2, No. 164, Sec 2, Keelung Road, Daan Dist., Taipei, 10675, Taiwan
Tel:+886-2-2737-0001 Fax:+886-2-2737-0002
E-mail:levaflor@ms24.hinet.net Web:http://levaflor.com.tw
Product Menu-
Panasonic TS-305 (For OA Office)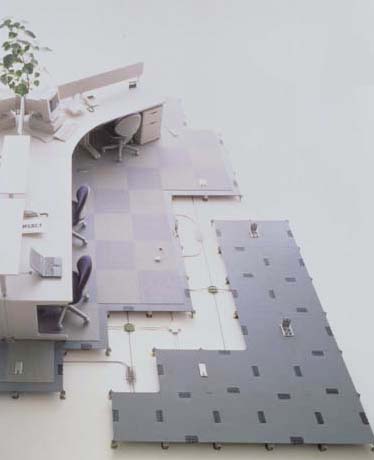 Panasonic TS-305 Steel Access Floor System (For OA office)
When network generation comes, only

steel raised floor system which only Levaflor Inc. supplies can help you solve the wiring problem which is caused by your computerized office.

Only steel raised floor system meets your requirements so much in OA office building. It´s your best choice to adopt. steel raised floor system . Although it´s your half step, it´s a stride for your modernized office.
Applicative Environment :
I.A. office building、OA network area or normal computer room
Product features :
| | |
| --- | --- |
| 1. Largest wiring capacity | 4. Good fire-retard、Strong durability |
| 2. Easy wiring | 5. The floor finished level is excellent. |
| 3. Assorting with special socket | 6. Excellent walking feeling |
Components and Parts :

Panel

Material:panel is made of high pulling steel and light-weight cementitious and is coated with phosphate by electric static powder.

oad performance:Concentrated load 300㎏、Distributed load 2000㎏/㎡

JQA and JAF specified performance.

Measure:500×500×26㎜(excluding coating material)

Pedestal

Applicative
surfacing

Surfacing

carpet tile 、 PVC tile 、 H.P.L. or conductive tile etc.

Other accessories

ABS outlet cover 、 bury -in socket
As long as you install TS-305 steel access floor system , everything will be all right !

Regardless of wiring or socket installation. To deal with various needs, the wiring panel is installed not only cable but also sockets. You will not puzzle your brain about how to install the raised floor matching various needs any more.

Wiring panel can promote the efficiency of installation and it is flexible to design the space because the cable line can be changed at will.

We can close the outlet cover under no using and the raised floor will be flat.

Pop-out outlet is easily installed. All high or low voltage cables can match it.
When high or low voltage is wired, pop-out outlet and bury-in socket are installed in the wiring panel, U type opening cover or round-hole cover is matched.
Air-condition grill opening

Floor air-condition system can adopt the special floor air-condition opening that is the two adjoined wiring panels. It is easy to inter-change the wiring panels.
50 ㎜ F.H.H. Type

New 50 ㎜ F.F.H. type series is lower than before by 20 ㎜ .
There is no tension even in the room with the low ceiling.
Mini-sized bury-in socket is specially developed for a series of wiring panel
The sockets for bury-in type include single socket type/single mini type and double socket type/double mini type . There are eight kinds of choices. To assort with the raised floor,

can keep the opening measure in advance. The weight and size of

TS-305 panels is lighter and handier, especially the new developed socket--single mini. Not only the price is reasonable but it owns high capacity. Besides, it applies to the 50 ㎜ -high raised floor .

* 1. Applying to the outlet of wiring panel which size is 90 ㎜ ×45 ㎜
* 2. Applying to the outlet of adjoined wiring panels which size is 90 ㎜ ×90 ㎜
Light and Handy Design; Easily Installing
Bury-in socket (305 type) is for a special purpose of a series of new products. Developing deft socket matches the size of outlet. It is easy to install and shorten the wiring hours. In addition, it will be interchanged at will to adapt the remove of equipments.
Recommend you to adopt multifunctional series of raised floor products, in order to create a comfortable OA office environment.
Material of
steel raised floor: The panel is made of formed-steel and cementitious core.
Actual Load:3.0kN(About 300Kgf) (Concentrated Load;Deflection:under 2.5㎜)
* JQA & JAF specified performance
Carpet tile installation
With screw hole in corner
Wiring Panel
Bury-in socket and floor air-condition grill opening can be installed under the panel and cables are wired form the outlet of panel. Single socket/Single mini socket can be directly installed into wiring panel. Double socket/Double mini socket cab be installed into the adjoined wiring panels.
Standard Panel
The pedestal shall firmly locate panels and hold them in place without the need for screws. Securing the panels by corner-lock screws shall be optional.
Outlet Cover
The cable is wired from the outlet
of wiring panel. After using, the
panel will be flat again.
Type No
Product Name
Weight
( ㎏ )
Type No
Product Name
Weight
( ㎏ )
Type No
Product Name
Weight
( ㎏ )
NE11432
Wiring Panel
About 7.5kg
NE11430
Standard Panel
About8kg
NE64332K
Cable Outlet Cover
About 0.07kg
© 2011
levaflor.com.tw
All Rights Reserved. E-mail: levaflor@ms24.hinet.net
welcome, your first
685948
visitors